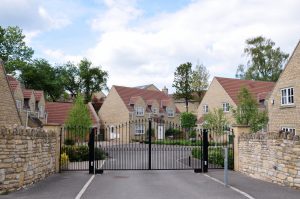 Homeowners Association 101
Do buyers want to move into a house with a homeowners association or avoid them like the plague? It's a question for the ages. Every homeowner's association is different. Each HOA varies in price, regulations, benefits, and requirements. So how do you decide if you should buy a home in an association or one without restrictions? Well, I'm here to break down the positives and negatives of both.
While no two HOA's are alike, the reason for their existence is the same – to protect the value of the homes within the neighborhood. A homeowners association may be as nonintrusive as to require a $100 charge for road maintenance once a year. Others HOA's can be as strict as to demand residents get authorization before painting the front door a different color. You may be thinking, "why would I ever want someone to restrict what I can do to my own home?". Well, there are many benefits to living within a homeowners association.
Benefits
If you want a neighborhood with a swimming pool, a tennis court, or even a clubhouse, I can guarantee it resides within an association. Even things as simple as sidewalks and lamppost require maintenance, and that falls on the shoulders of an HOA. Now, that association that requires paint authorizations may be a little intense for some homeowners, but there are benefits to having an HOA with property restrictions.

Nothing hinders the sale of an immaculate house like a neighbor with overgrown grass and car parts in the backyard. Having an HOA with restrictions stop homes from being overlooked based on lack of maintenance by neighbors. Another advantage of living in a house with an HOA is the services provided by the association. Some associations may only maintain the roads, while others may pay for water/sewer and provide yard maintenance.
Disadvantages
Now, I'm sure everyone will agree, the biggest problem with moving into a neighborhood with an HOA is the fees. Some HOA's require a yearly payment, but most require monthly or quarterly payments that go directly to the association. HOA fees are not a part of your mortgage, so make sure the monthly mortgage payments and association fees are within your comfort zone.  Depending on the perks of the neighborhood an HOA fee can vary from $25 a year to $850+ a month.
Speak with your realtor and let them know if and how much you feel comfortable paying to live in a particular area. Another huge issue buyers tend to have with associations is the restrictions they put on their residents. Some HOA's are relaxed, and put no restrictions on the homeowner, while others keep a watchful eye. I have an out-of-town family member whose HOA is so strict that residents cannot park on the street overnight. If residents happen to forget to move their car it is towed before sunup.
HOA's in Virginia
I can't stress this enough, each HOA varies widely, and it's important to speak with your realtor if you have concerns about the level of restrictions within a neighborhood. In the state of Virginia, the seller is required to purchase an HOA package and have it delivered to the buyers. The purchasers will then have three business days to look over the packet. Within the time frame, the buyers have to decide to move forward or cancel the transaction. If you have a specific question like "can I keep my work truck in the driveway?" have your realtor contact the association before putting an offer on the property, saving everyone time in the long run. 
Deciding whether you want to live within an association is based completely on buyer personality. Some clients want a neighborhood where they never have to cut their grass and others want 5 acres of open land so they can sit on their tractor all afternoon. The choice is entirely yours.