Richmond loves its history, and Church Hill is no exception. As you walk through Richmond's first residential neighborhood, you feel as if you've stepped back in time. Gas lamps, cobblestone streets, wrought iron fences, and antebellum homes abound on this picturesque hill. If you haven't visited the neighborhood, you should read this guide and then jump in your car; it's an experience unlike anything else in Richmond.
**Disclaimer: for the sake of this article, I'm including Chimborazo, and a few Union Hill restaurants, as part of Church Hill. The smaller districts tend to get lumped in with Church Hill since it is the most notable of the East End neighborhoods.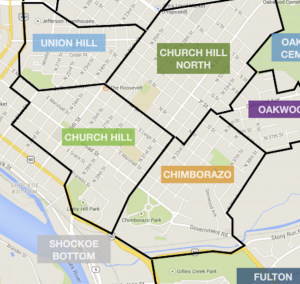 HISTORY:
Church Hill is not only the first neighborhood in the city, but also how Richmond got its name. In 1737, standing on the hill that is now Libby Hill Park, William Byrd II took in the views of the river and its surrounding landscape. Byrd couldn't deny the striking resemblance between the view of the James and that of the Thames River from Richmond Hill in England.
The district of Church Hill draws its name from (you guessed it) the abundance of churches within the neighborhood. The most recognized among them is St. Johns Church, where Patrick Henry gave his famous "Give Me Liberty or Give Me Death" speech in 1775.
RESTAURANTS:
When Richmond gets attention for its culinary scene, a majority of the time it's from a Church Hill restaurant, chef, or bartender.
One of Richmond's most notable restaurants is The Roosevelt. Opened in 2011, in a turn of the century home, The Roosevelt has gained a cult following for their upscale southern cuisine and creative cocktail menu.
Another amazing culinary experience can be found at Dutch & Company. Dutch & Company produces five-star quality plates in a converted laundromat with recycled furniture and a tin ceiling. Try the Perfect Egg appetizer, you won't be disappointed.
For a more casual experience, but still packed with history, try visiting Patrick Henry's Pub and Grille or Liberty Public House. Patrick Henry's Pub and Grille, situated in a Greek revival row house built in 1850, is the perfect place for a pint of beer on the patio or a bite to eat. Liberty Public House, located on the first floor of the historic East End Theater, offers vegetarian, vegan, and gluten-free fare in a casual environment.
Dubbed the original neighborhood cafe, The Hill Cafe is a cozy corner restaurant serving up classic comfort food since 1989. The restaurant has everything you would want to find in a historic neighborhood: wood floors, exposed brick walls, wood ceilings, tons of windows, and an old built-in shelf for booze behind the bar.
Alamo BBQ is best known for their award-winning beef brisket. The East-End staple has been serving up Texas-style barbecue since 2009.
8 1/2 is an awesome Italian take-out restaurant best known for their pizza. The restaurants first, and most notable location is in the Fan so make sure you get the right address when going there.
BAKERIES/COFFEE:
Subrosa Bakery is a wood-fired corner bakery. Where possible, they use organic, locally sourced ingredients. The aromas that come from this place are just as heavenly as the pastries themselves.
WPA Bakery are experts at their craft. They are especially well-known for their gluten-free and vegan options.
Ever had a savory pie? Well now is your chance. Proper Pie Co. bakes amazing sweet and savory pies in an adorable location on Broad Street. Fair warning though, Proper Pie Co. is closed the entire month of August.
I adore Captain Buzzy's Beanery. It's a rustic and quaint coffee shop with mismatching chairs, college memorabilia, and a red tin ceiling. Besides coffee, Captain Buzzy's offers an assortment of breakfast and lunch items, fresh squeezed lemonade, and olde time sodas.
Union Market is a cafe and small grocery store. Serving up goodies like bagels, sandwiches, glasses of wine, and beer, this place has it all. Need a corner deli? This is your place. Need a spot to work and have a cup of coffee? This is also your place.

SHOPS:
Dear Neighbor and Gather Home & Garden are swoon city for curated local gifts. Located near Union Market, Dear Neighbor sells goodies like Tulip and Bear Candles, and Na Nin Parfum. Gather Home & Garden is a plant lover's oasis. Alongside plants, you can find handmade gifts like Pan Natural's soaps and mists.
People rave about their purchases from Tiny Space which is located across the street from 8 1/2. What kind of store is it? Well, it's part thrift shop, part handmade gifts from local artists, all super cute and affordable.
AREAS OF INTEREST:
Built in 1741, St. John's Church is famous for Patrick Henry's "Give Me Liberty or Give Me Death" speech. St. John's is the oldest church in Richmond and the first public burial ground in the area. Across Broad Street, you will find the modest but adorable Patrick Henry Park.
The Judgmental Map of Richmond (found in novelty stores, like Mongrel) dubbed Libby Hill Park the most over-Instagrammed city view. The park gets the reputation for good reason, the views are incredible.  HOWEVER, one of our favorite Instagram worthy shots (still in Church Hill) is taken at the Grace St. Overlook, at the end of Grace St. near ChildSavers.
Another beautiful park (catching a theme here) is Chimborazo Park. This park is huge, with over 200 acres to stroll through. At the far end of the park lies Church Hill Dog Park, a large fenced-in area for your furry friends to hang out off-leash. If you visit the park during business hours, you can stop in at the medical museum. Not only is Chimborazo a beautiful park, it's also the site of one of the largest and best run Civil War hospitals in the south.
One thing I love about Richmond is the variation in culture and design of each neighborhood. No other district will ever look or feel the way Church Hill does.  The community has seen its fair share of ups and downs, but the future looks bright for this historic neighborhood.