The Vibe
Richmond isn't a large city—but don't tell it that. What Richmond lacks in square miles and building height, it makes up in diversity and uniqueness. Each zip code in Richmond seems to define a different era in time, dating all the way back to the pre-civil war era. Homes similar in size and shape are strung together neighborhood by neighborhood, illustrating Richmond's long progression through history. The Fan District—called this because of earlier aerial views of its streets which fan westward from Monroe Park—is marked by handsome row homes dating back to the late 19th-century. Church Hill, located on the southern half of Richmond City, is riddled with 19th-century masonry houses. When moving to Richmond City, however, don't think your decision on a location lies solely on whether you prefer a modest builders' cottage over a large Colonial Revival mansion as each area seems to have a different atmosphere and feel to its residents and shops. With houses ranging from $10,000 — $5,000,000, there are a variety of options available to everyone regardless of their budgets.
Shopping
If you are the shopper in the family, this is one city you want to be in. Almost anything you could ever desire can be found within the confines of the City of Richmond. Travel down the vividly painted streets of Carytown, which have lovingly been voted the "Best Shopping Neighborhood in Virginia" by the readers of Southern Living magazine. These streets are filled with store after store of unique specialty shops, boutiques, restaurants, and services.
If you just can't seem to find what you are looking for in Carytown, give the shops at Libbie and Grove a try. These shops are of a similar variety to Carytown, but are accompanied by less crowded sidewalks—not that it can't pretty busy around this part of town, especially once the girls of Saint Catherine's leave school for the day. While Carytown is on the forefront of trendy fashion, the shops at Libbie and Grove exude a more classic vibe.
The shops at River Road, located near the University of Richmond, is another area filled with upscale specialty stores, including Richmond's signature Southern Proper and Pink Palm boutiques, as well as a variety of dining options. If you continue over the Huguenot Bridge, Stony Point Fashion Park, Richmond's only pet-friendly mall, awaits your arrival featuring reputable brands like Saks Fifth Avenue, Restoration Hardware, and Anthroplogie.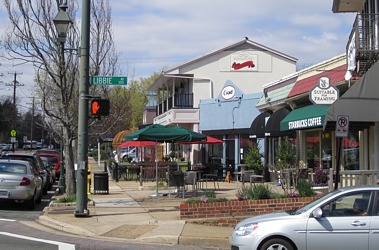 Shoppes at Libbie and Grove
Entertainment
Thinking about going out for a movie? Why go to an ordinary movie theater when you could experience a movie palace of the past at the famous Byrd Theater or sit up close and personal with your favorite characters at the Science Museum of Virginia's Imax Theater. If you are looking for more of a variety, Bow Tie Cinemas' Movieland at Boulevard Square offers all of the latest releases as well as a large selection of Independent, Art and Documentary films in their Criterion Theater. If live entertainment is more your thing, Richmond has plenty of opportunities for you. See nationally recognized performers at the Richmond Coliseum or The National which offers a more intimate experience. Richmond CenterStagebrings Broadway to Richmond at the newly-renovated and renamed Altria Theater with shows like The Lion King and Wicked and the Richmond Ballet's rendition of The Nutcracker at The Carpenter Theater is one not to be missed. Don't have weekend plans? The City of Richmond can probably fix that for you. Richmond is full of festivals that bring thousands of party-goers to the city each year to celebrate everything from folk music to varying ethnic foods and beyond. Richmond also offers a rich nightlife scene with lots of options for various tastes, such as dance clubs found in Richmond's Shockoe Slipand neighborhood watering holes dispersed throughout the Fan District.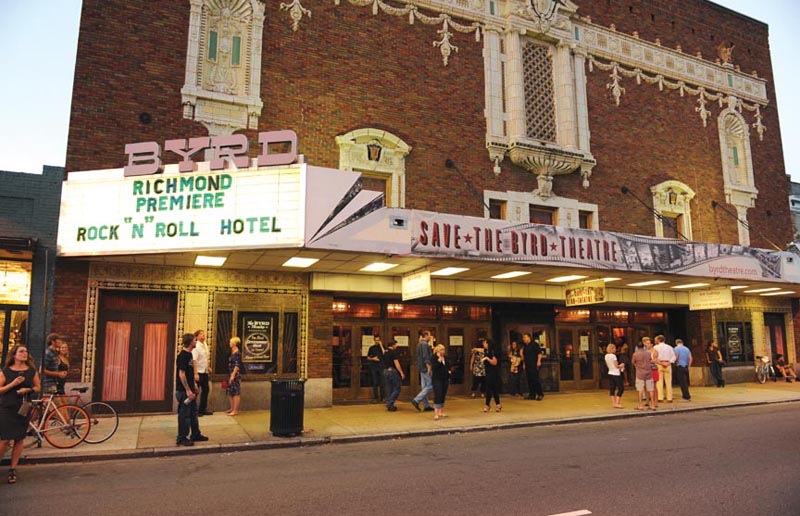 Byrd Theatre, built in 1928
Recreation>
If biking, hiking, or anything of the like are of interest to you then Richmond is the place for you to be. Bike and hike any number of areas part of The James River Park System including Belle Isle and Brown's Island. Richmond's location on the James River also allows many opportunities for water recreation such as rafting, kayaking, and stand up paddle boarding. Areas for biking and hiking don't have to be along the James River, though. Richmond is also home to rolling hills and mature trees. Bryan Park, for instance, has 260 acres for a variety of sports and recreation and can be found on the North Side of the City.
Have children? Take them to Maymont Park where they can interact with and feed the animals or to the Children's Museum of Richmond for plenty of hands on activities. Richmond has many more museums, including options for children and adults alike. Take the whole family to world-renowned exhibits at Virginia Fine Arts Museum and The Science Museum of Virginia.
If you happen to be a Redskins fan, or even remotely like football at all, you're in luck, as the summer training camp for the Washington Redskins has recently been relocated right behind the Science Museum. Richmond offers local sports teams as well. Visit the Diamond for a baseball game and cheer on the Richmond Flying Squirrels or, if college sports are more your thing, catch some Division 1 games at the University of Richmond or Virginia Commonwealth University. March Madness becomes especially full of spirit as both Richmond natives and transplants tend to cheer on the VCU men's basketball team who made it to the Final Four in 2011.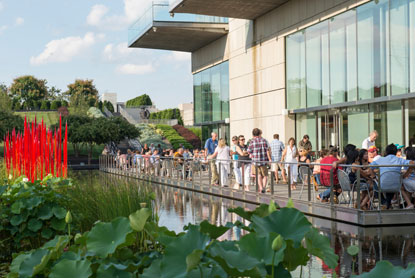 Schools
Richmond City has 5 public high schools, 5 alternative high schools, and 9 private high schools. Even if you do not have children, buying in a location with a desirable school district will be a huge advantage for you if you resell.
Of Note
Richmond is a food and drink lover's paradise. Savor the flavors of over 900 restaurants, most of which are locally owned. Indulge in the craft beer phenomenon at any one of the city's six (soon to be seven) breweries or visit Virginia's first and only urban cidery located just over the river in Manchester. If Virginia is for lovers, Richmond is for food lovers.